Yup, that's right. I'm at it again. I'm defending changes to Disney Parks.
Hopefully, this will be the last time. In all honesty, I really just wanted to collect all of my thoughts into one place that I can share whenever a debate calls for it. There seems to be a lot of misunderstanding about how the parks were run in the beginning, and how that directly affected the changes that were made, how they were made, why they were made, and why they're still being made.
If you want an in-depth breakdown of these changes, you can read about them in my other related blogs, which I will link throughout this post. What's most important here are:
What, How, When, and Why…
Let's start with the big one, Epcot. Of course, we all know what attractions were changed. (Who could forget? Who would let us?) When EPCOT Center opened in October 1, 1982, it had 11-14 attractions, depending on how you count the multiple attractions within the themed pavilions. For this list, I am only counting rides and shows in a theater, no interactive or "come-and-go-as-you-please" attractions:
Spaceship Earth
The Land, featuring…

Listen to the Land
Kitchen Kabaret
Symbiosis

Journey into Imagination (ride opened March 5, 1983), featuring…
Universe of Energy
World of Motion, featuring…
El Rio del Tiempo
Wonders of China
The American Adventure
Impressions de France
O Canada!
Of those attractions, the following changes have been made:
Spaceship Earth
(refurbished 1986, 1997, 2007, 2021?)
The Living Seas
The Seas with Nemo and Friends
The Land, featuring…

Listen to the Land
Living with the Land
Kitchen Kabaret
Food Rocks
Soarin over California
Soarin over the World

Symbiosis
Circle of Life: An Environmental Fable
Awesome Planet

Journey into Imagination
Journey into YOUR Imagination
Journey into Imagination with Figment!, featuring

Magic Journeys
Captain EO
Honey, I Shrunk the Audience
Captain EO: Tribute
Disney & Pixar Short Film Festival

Universe of Energy
Ellen's Energy Adventure
Guardians of the Galaxy: Cosmic Rewind (2021?)
Wonders of Life,
Play! (2021?), featuring…

Body Wars
Cranium Command
The Making of Me

Horizons
Mission: SPACE

Divided into Orange Team and less-intense Green Team in 2006
Orange Team updated and new Green Team experience added in 2017

World of Motion
Test Track (Presented by General Motors)
Test Track (Presented by Chevrolet), featuring…
El Rio del Tiempo
Gran Fiesta Tour Starring The Three Caballeros
Maelstrom
Frozen Ever After
Wonders of China
Reflections of China
Wondrous China (2021?)
The American Adventure
(refurbished 1993, minor updates 2007 and 2018)
Impressions de France
Remy's Ratatouille Adventure (2021?)
O Canada!
O Canada! (2007 version)
Canada: Far and Wide
Since October 1, 1982 — almost 39 years ago as of this writing — all but one, and only one, Epcot attraction has been significantly changed, replaced, or removed altogether. Epcot today is, essentially, a completely different park within the same framework.
Why Epcot changed so much has been detailed extensively in my An EPCOT That Never Was and Always Will Be series, but to put it simply in one paragraph, the park was mostly funded by corporate sponsorship. Due to its focus on ever-advancing technology, the pavilions required much more frequent updates than Disney or their sponsors had the time and money for. Eventually, attractions designed to be futuristic became passé, and sponsors had the internet at their disposal, so funding for these once informative (and profitable) attractions disappeared.
EPCOT Center was built as a permanent World's Fair. This inherently comes with the aforementioned problems of budget, but also this: World's Fairs exist to inform and educate, while also providing entertainment. They also only exist for a year or so. The reason for their temporary status is that once most people have learned all there is to learn from them, they have little reason to return. Epcot became the park that many guests would skip because, in their eyes, they don't need to waste an entire day learning about fossils, fish, or France again.
Sure, geeks like we loved riding through time on Spaceship Earth, World of Motion, or Horizons, but the average repeat guest wants more bang for their ever-increasing bucks. So, Disney had to rethink edutainment and try to make it exciting. The history of transportation made way for the science of vehicle testing. A MagLev to an orbiting space colony led to a rocket to Mars. A moving theater through the creation and use of fossil fuels became… a roller coaster with superheroes from space?
So why such a departure? Why are we seeing more and more existing franchises pop up in Epcot with little-to-no educational value? The same reason guests continue to ride Peter Pan's Flight and not the Carousel of Progress. Peter Pan is timeless, as are princesses, superheroes, and anthropomorphic rodents. Carousel of Progress, and the slew of Epcot dark rides inspired by it, are quickly and painfully outdated. For Epcot to survive, it needs to become, as Bob Chapek put it: "more Disney, more family, more timeless and more relevant to the millions of guests who visit each year," or else risk becoming what Walt Disney Studios Paris is, or what California Adventure was in its first decade.
---
This, of course, extends to all the parks. I hear people lamenting the evolution of the former Disney-MGM Studios into its current Disney's Hollywood Studios form — the loss of The Great Movie Ride and the studio tours, the construction of the giant hat, the destruction of the giant hat, replacing New York Street with Streets of America (I'm still confused by that one, honestly), replacing Residential Street with Lights, Motors, Action!, replacing Lights, Motors, Action! and Streets of America with Galaxy's Edge, the discontinuation of the Osbourne Family Spectacle of Dancing Lights, and, perhaps most egregiously…
"It isn't even a studio anymore!"
And that's exactly the point. The studio aspect of the Studios was the most detrimental part of its longevity. Right around the time Disney decided to go all-in on showcasing "the magic of moviemaking", other studios started showcasing it in more practical formats, like TV documentaries and DVD special features. At this point, the magic of moviemaking is actors wearing polka-dot pajamas on bright green sets talking to cardboard cutouts of CGI characters to be added later. The majority of moviemaking magic nowadays is done on a computer. That's hardly as exciting as Mousketeers rehearsing dance moves on a live set.
Then there's The Great Movie Ride, a celebration of movie history featuring dozens of films and stars you've probably never heard of. (I like to consider myself a movie buff, and even I haven't seen most of the ones featured in this attraction.) Like Epcot, the GMR was supposed to be updated regularly, but instead, it was neglected. After 25 years with no changes except to the finale (a 3-4 minute montage of classic and modern movie clips), only a few guests knew or cared about the attraction, as evidenced by the comparatively short waits, despite reduced ride capacity.
A slow-moving ride through a bunch of old movies couldn't hold a candle to falling 13 stories into the Twilight Zone, or racing down the Santa Monica Freeway in a super-stretch limo. The once-suspenseful thrill of a Xenomorph lunging at you while you drift leisurely through a movie scene was nothing compared to the visceral thrill of a roller coaster or a drop ride moving at 40-60 miles-per-hour.
Another major change happened to Hollywood Studios thanks in no small part to its primary competitor, Universal Studios. Universal's Islands of Adventure had already seen modest success by theming entire lands to a single franchise, such as Marvel Comics and Jurassic Park, but it was the introduction of the Wizarding World IP that boosted the park's popularity to levels Disney didn't foresee. Disney realized a little too late that what guests wanted more than themed attractions with interesting queues and artificial peeks behind the moviemaking curtain was to be fully immersed in an entire land themed to the fanciful world of its franchise.
The guests were changing. Their interests were changing. Their wants and needs were changing. And just like menus change to accommodate tastes and trends, so too must the parks.
---
Thus, we got Pandora: The World of Avatar.
Animal Kingdom was already having a hard time adapting. It opened with very few attractions, expecting that the animals would be enough of an attraction to maintain interest. When this proved inaccurate, off-the-shelf attractions were hastily and carelessly assembled to fill in the gaps. Originally, there was very little signage in the park, the idea being that guests were supposed to get lost. The guests were unhappy with the lack of directions and signs were erected at every intersection.
A plan for an elaborate land themed around fantasy creatures, the long-fabled "Beastly Kingdom", was scrapped due to budget cuts and resulted in an Imagineer exodus. The park limped along for a few more years until Asia opened, introducing Kali River Rapids, a raft ride through rough bumpy waters in which it is all but guaranteed that "you will get wet, you may get soaked!" This ill-fitting thrill ride had a shoehorned theme of "Environmentality", but for the most part was indistinguishable from a similar attraction in Disney California Adventure, or countless others in theme parks and water parks across the country.
Expedition Everest gave DAK a shot of adrenaline and kept it on life support for a while, but it was Bob Iger's deal with writer/director James Cameron that brought the biggest change to the park. His newest movie Avatar was a runaway success and featured a very similar theme of conservation, as well as fantasy creatures and dragon-like beasts the park was missing. When Pandora opened in 2017, it brought the concept of an immersive land themed to a single franchise to Disney World and, despite interest in the movie waning considerably in the years since its announcement, has become one of the most populated areas of the park with the most popular attraction on property.
Since then, Animal Kingdom has focused more on their rides, shows, and (on-again-off-again) nighttime entertainment than their living animal exhibits; and Hollywood Studios has added entire lands themed around Toy Story and Star Wars.
---
Perhaps it's fitting that the Magic Kingdom has been the park with the fewest drastic, tone-altering changes. In its nearly five decades, there has been the addition (and subtraction) of one mini-land in 1988, Mickey's Birthdayland/Mickey's Starland/Mickey's Toontown Fair; the complete rebuilding of Tomorrowland, once in 1994, and to a lesser extent currently; and the expansion of Fantasyland in 2012. Minor alterations include the addition of Caribbean Plaza to Adventureland in 1973, the expansion to Frontierland in 1980, and the complete redesign of the Hub in 2015.
But what the park seems to lack in major exterior changes, it more than makes up for once you enter one of the many classic attractions. The Fantasyland Theater has been the venue for an Audio-Animatronic show, a live puppet show, and two 3D movies. Snow White's Adventure was almost completely changed in the '90s to something less scary (despite "Scary" being added to the name with the refurbishment). The current Tomorrowland Interplanetary Convention Center has hosted a Flight to the Moon, a Mission to Mars, an Alien Encounter, and was the site of Stitch's [infamously not-so-]Great Escape. Even The Enchanted Tiki Room was "Under New Management" for a little over a decade, before being restored to the original show, albeit in a jarringly truncated iteration.
Other classic attractions have stayed mostly the same, but still had major alterations to show scenes, such as Pirates of the Caribbean and The Haunted Mansion. Pirates in particular has had a slew of controversial alterations that some would swear have ruined the attraction forever. The reasons for these changes should be obvious: modern sensibilities have exposed the seedy undertones of the ride's scenes, and the film franchise's success created thematic incongruity between it and the attractions that inspired it.
We're seeing more of these changes elsewhere in the park. Country Bear Jamboree was shortened by roughly five minutes, both to quicken the show's pacing as well as to remove some of the less tasteful jokes, such as the fat-shaming of Tears Will Be the Chaser for Your Wine singer, Trixie. Jungle Cruise is also undergoing refurbishments currently, removing racist depictions of indigenous people and tying it in with both the film and the Disney Park-spanning universe, the Society of Explorers and Adventurers.
But easily the biggest change is to Splash Mountain, which will no longer be themed to the Joel Chandler Harris characters made (in)famous in the 20th century by Disney's Song of the South and instead focus on the adventures of Tiana, Naveen, and their friends from The Princess and the Frog. I'll have more on this in a later blog, suffice to say that cultural and racial sensitivity has a lot to do with the attraction's expiration date.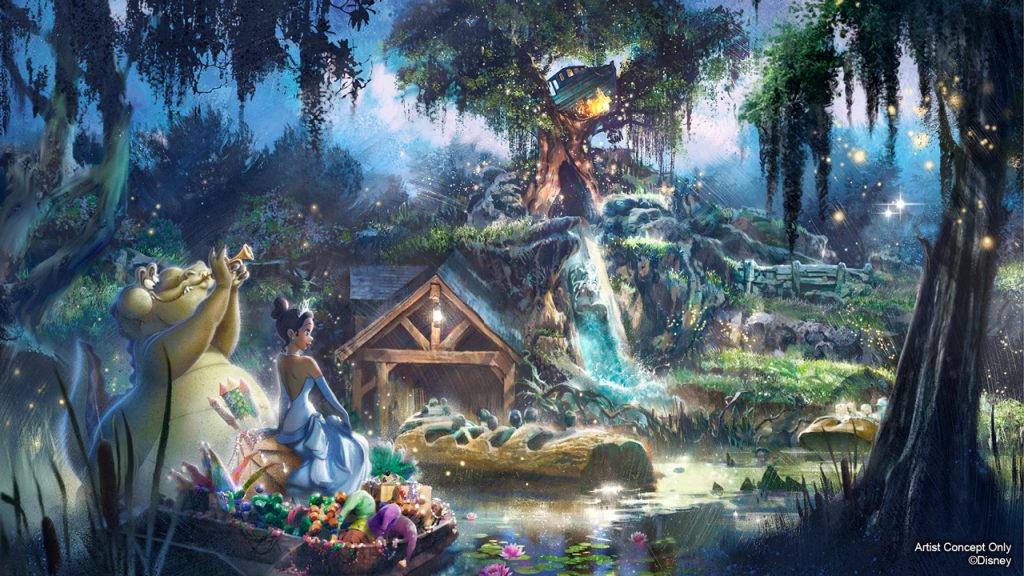 I wouldn't be surprised if the Indian Village from Peter Pan's Flight is the next feature to be modified or removed.
---
Soon we will be celebrating Walt Disney World's 50th Anniversary.
Think about that for a moment. 50 years. Consider the cultural changes that have taken place in 50 years. Do we really want Disney World to be the same as it was back in 1971? Much as I hate to say it, a lot of the culture from 50 years ago was pretty unfriendly to people who weren't White, middle-class, heterosexual, average-built, Christian, and/or male (to put it kindly).
Now consider the technological changes. Computers were brand new in 1971, and nobody had them in their homes. Media was stored on celluloid, vinyl, or magnetic tape, not megabytes, gigabytes, and terabytes. Phones were stationary and only provided two-way voice communication.
Compare the special effects, and even the ride vehicles, of The Haunted Mansion to Rise of the Resistance. Could you honestly say that, objectively speaking, The Haunted Mansion's technology is as good as or better than Rise of the Resistance? Not really. You may like The Haunted Mansion more, but the technology is, for the most part, 50 years old — some of it is actually over 150 years old. Apples and oranges, you say? How about Hong Kong's Mystic Manor, then?
Or better yet, let's look at Lincoln.
Here is a video of the Abraham Lincoln Audio-Animatronic from The Hall of Presidents in 1971:
Now, compare that this video of the Abraham Lincoln Audio-Animatronic from The Hall of Presidents in 2017:
I don't think further commentary is necessary here…
As long as we're talking about Audio-Animatronics, though, let's talk about the Three Caballeros from Gran Fiesta Tour. Did you know that these figures were from the Magic Kingdom's opening day attraction, Mickey Mouse Revue? It should come as no surprise, then, that they keep breaking down. Same with all the figures from the Carousel of Progress, especially John. Most of these date back to 1964, while the most recent ones were built around 1975.
In the final scene of Carousel of Progress, John "walks" back and forth behind the kitchen counter. Except he doesn't walk. He floats. He doesn't even have legs. Benjamin Franklin was the first Audio-Animatronic to "walk" in 1982's American Adventure, but even he didn't really walk so much as limp. Giving Ben a cane and a set of stairs to climb allowed the Imagineers to move him slowly, one leg at a time, without him having to shift his weight.
Imagine if they replaced the Ben Franklin figure with the Hondo Ohnaka figure from Millenium Falcon: Smuggler's Run, who — while still not being fully mobile — appears to walk, turn, and interact with the set, props, and guests. There's a lifelike quality to the new A-1000s that now feels lacking from the Audio-Animatronics of 50+ years ago, which themselves were amazingly lifelike in their own time.
50 years ago, we had stiff, stationary presidents. Now we have fluid and articulate humanoid aliens who walk around.
I'm not going to beat around the topiary here. I think most of these changes are good.
Are all changes good? Certainly not. (Looking at you, Iago and Zazu.)
They may not all be implemented in the best way. Certainly, Journey Into Imagination was a step backward in quality, Rock 'n' Roller Coaster does not fit into its surroundings, and Pandora is arguably yet another attraction based on a movie that nobody remembers anymore.
But if Disney never changed, if they never removed the old things to bring us new ones, the parks would be filled with old and unimpressive technology, outdated and offensive depictions of their guests and cast members, and they would be surpassed by newer parks. There would be nobody left but us old and die-hard fans. The older the parks get, the harder it can be to attract a new audience. Every day is the first visit for someone, and everything needs to feel fresh and new all the time. This can't be done if we leave everything the way it was in our memories.
Whose memories should we cater to, for that matter? The people who visited in the '70s? The '80s? The '90s? Every generation has its own idea of what is "classic" Disney. Take the Disney-MGM Studios' Sorcerer Mickey hat. There is a whole generation of guests for whom that was a beloved icon who were sad to see it removed, while another generation of park-goers always hated its addition and were happy to see it removed, and yet another who never saw it in person and can't understand the appeal. There are still people today who lament the closure of Mr. Toad's Wild Ride, but The Many Adventures of Winnie the Pooh has been there for almost as long as Mr. Toad, and arguably has even more fans who will likely petition its replacement when the day comes.
---
Change is never easy.
I get that. I miss World of Motion and Horizons. I wish I could have seen Mickey Mouse Revue or Mission to Mars. I'm sad that I will never get to ride Mr. Toad again. We all go through the five stages of grief when losing a beloved attraction:
denial
anger
bargaining
depression
acceptance
Except some of us never make it to step 5. (Some of us never make it past step 2, but that's another topic altogether.) We need to accept that what was incredible for us 20 years ago may not be for park-goers today. I don't just mean socially, but what passes for entertainment has changed drastically. How we consume entertainment is also completely different today than when most of us were children.
Consider the people who visited Disney World in its first decade. Most of them are in their 80s or older now, and their children have children of their own — maybe even grandchildren. Those grandchildren and great-grandchildren are not going to have the same interests as their predecessors. They didn't grow up watching the same TV shows or movies. Their games went from pinball to arcade, to Nintendo, to Xbox.
Fortunately for old-timers like me, the innovations that forced Epcot to change have helped us recreate facsimiles of what it once was. While photos, video footage, and audio recordings of Disney Park offerings pre-1990s may be scant and low-quality, what has been documented and preserved since then is abundant and relatively easy to access. We may never be able to ride Horizons again, but thanks to the tireless efforts of MouseBits, RetroWDW, MartinsVids, LMG Vids, Futureport '82, and countless other websites, YouTube channels, and recreation projects, reliving a shadow of these past memories is just a few clicks away.
It's not the same, you say…
…and it never will be. Watching Star Wars at home on Blu-ray or Disney+ (or the bootlegged "De-Specialized Edition", if you prefer) will never be the same as seeing it in the movie theater as a child during the post-Watergate, post-Vietnam War era of oft-dystopian sci-fi either, but that doesn't make the experience any less magical or the memory any less real, nor would it even be possible to recreate the conditions that made Star Wars magical in the first place.
The same can be applied to the Magic Kingdom, EPCOT Center, the Disney-MGM Studios, and Disney's Animal Kingdom. All were designed and built at a certain time for a certain group of people within a certain cultural snapshot. As times change, so do people and culture, and if the parks don't as well, they may as well close the gates when their opening day audience move on or die off.
But here's the thing about change: it's limitless. If something was changed before, it can be changed again. Take Cinderella Castle, for example. For 25 years, it stayed pretty much exactly the same, then they painted it pink, stuck a bunch of inflatable decorations on it, and called it a giant birthday cake. 18 months later, they changed it back, and it remained some form of its original blue and white color scheme until summer 2020 when it was repainted in pink and gold. It will stay those colors at least until 2022 when the 50th anniversary celebration will be over, and then they may or may not change it up again.
Ironically, I think the best description of this can be paraphrased from an extinct version of the long-neglected, fan-favorite attraction, Carousel of Progress:
Today is always more complex than yesterday. Always has been… But it's more exciting too. Today we have so many more choices… Today they're bringing good things to life that weren't even dreamed of a generation ago.
Well said, Sarah. Well said.